ISIS' No. 2 Reportedly in Killed a Raid by U.S. Forces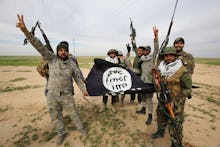 The second-in-command of the Islamic State group, Haji Imam, was reportedly killed in a raid this month, according to United States defense officials.
In addition to Imam, U.S. forces also took out a senior field commander, Omar al-Shishani, also known as Omar the Chechen. it is unclear whether al-Shishani was killed during the same raid.
At a press conference, Secretary of Defense Ash Carter declined to elaborate on the specifics of the raid but noted that it was "consistent with our strategy there to put pressure on ISIS in every single way that we can," and added that it was part of the longterm struggle to hit the terror organization in every way possible.
"The idea that there can be an Islamic State with a capital in Raqqa — we're going to eliminate that image," he said.