Body-Positivity Activists Are Fighting Back Against These Terrible Subway Ads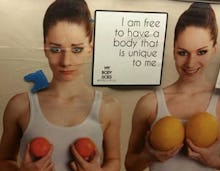 If you've ridden the subway in New York City lately, you may have noticed a barrage of advertisements encouraging women to change their bodies: Ads for breast augmentation surgery and weight loss supplements paper the walls. Jessica Andersen and Ashley Simon, two self-described "New York yogis," were sick of all the body shaming — so they took action.
Read more: This Girl Has a Strong Message for Body-Shaming Victims: "Wear Whatever the Hell You Want"
Andersen and Simon started making body-positive stickers with messages like "I am free to have a body that is unique to me" and "My body is a source of joy" and pasted them up over the ads that they felt imposed harmful body standards on women — like those gross ads for breast augmentations that show a smiling woman holding grapefruits to her chest.
The stickers were part of a campaign that Andersen and Simon call My Body Does. "We had this idea to have a body-positive community founded in being informative and inclusive and the stickers are our first project as part of that community," Andersen told MTV News in August. "I had started thinking about the stickers, having been trapped in a subway filled with terrible advertisements, thinking, 'You know, I really wish I had some way to speak for myself in this space.'"
Soon the stickers, which Andersen and Simon both gave away and sold online, were popping up on advertisements both on the subway and above ground.
"We've loved seeing all the different places that people are putting their stickers," Andersen and Simon wrote in an email. "Some people have sent us pictures of the stickers up on advertisements, and a lot of other people have shown us how they incorporate them into their daily lives.
"There are stickers of mirrors, on the backs of laptops, on water bottles, posted on refrigerators. People just started putting them in places where they figured they'd need these daily reminders."
The powerful body-positive message of the stickers has been winning Andersen and Simon plenty of supporters. "The reactions in person and online have been really positive," Simon said. "We've had people ask for stickers when they see us putting them up on ads, or just comment that they like them.
"One time there were two bro-y looking guys watching Jess put up stickers and she was worried they might say something snarky, but then they walked over and told her how much they loved the stickers, admired the work and asked if they could have some of their own. Turns out they were feminist bros and goes to show you shouldn't stereotype."