Jimmy Kimmel Does Some Tongue-in-Cheek Mansplaining for Hillary Clinton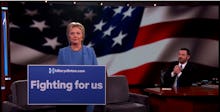 It seems like even when she has strong results in the primaries, male pundits would rather focus on what Democratic frontrunner Hillary Clinton's biggest issues are in her victory speeches and rhetoric. Sometimes, she needs to smile more. Other times, she's shouting too loudly and needs to lower her tone. In that spirit, Jimmy Kimmel decided it would be best to mansplain to the former secretary of state when she appeared Thursday night on Jimmy Kimmel Live! — albeit with a satirical tone. 
Kimmel offered to help Clinton with her speeches and debates to avoid any further criticisms, though admittedly, it was difficult because there were just so many things to go through.
"You want to be stylish without looking like you're trying to be stylish, and also presidential," Kimmel said. Later, "Don't smile like that because it's too forced; it looks like you're faking it." 
Ultimately, Clinton came to the conclusion that nothing she was doing could appease him, to which Kimmel agreed because she's not a "man." Obviously, the skit — and Kimmel's misogynistic tone — was sarcastic, but it effectively captured the sexist double standards Clinton regularly faces on the campaign trail. 
Check out the full segment below:
Read more: Samantha Bee Starts #SmileForJoe Twitter Campaign Against MSNBC Host Joe Scarborough