A Student Made a Biodegradable Water Bottle Out of Algae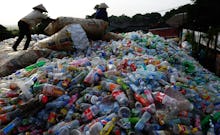 While scientists are figuring out how to degrade plastic with bacteria, one student is coming up with an alternative to hard-to-dispose-of plastic. 
By experimenting with red algae powder, design student Ari Jónsson was able to create a water bottle that loses shape and begins to decompose once it's empty, according to Deezen. To make the plastic-like substance, Jónsson mixed the algae powder with water, forming a gelatinous material. He altered the proportions until the mixture was the correct thickness, then he heated it and poured it into an ice-cold mold. He further sculpted the algae into the shape of a bottle inside a bucket of ice water. 
The bottle is entirely composed of natural materials, and can even be eaten (if its consumer is into the taste of algae). 
It was first displayed at the Drifting Cycles student exhibition in Reykjavik, Iceland in March.   
Anything humans can do to combat plastic usage is important, since it is such a persistent and common pollutant. 
A recent study found that by 2050, there will be more plastic in the ocean than fish. Humans drop between 4.6 million and 12.7 million metric tons of plastic into the world's oceans every year, according to researchers at UC Santa Barbara's National Center for Ecological Analysis and Synthesis.