Jazmine Sullivan Says It's Time for Plus-Size Women to Make Strides in the Music Industry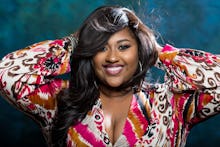 Body positivity is for sure having a moment: Plus-size male models are beginning to make way in the fashion industry and the first plus-size designer's clothes walked down the runway in February's New York Fashion Week.
But that doesn't mean all industries are as friendly to people of size, especially women. Enter Jazmine Sullivan, the body-positive R&B songstress who has previously advocated for more black soul singers to garner Adele-level success. 
In an interview with the Huffington Post, Sullivan called for a music industry that more openly embraces women of size. 
"There aren't a lot of plus size women in the industry, but I'm one," she said. "I feel like I made it through — to some degree — through the other side, to say the least. But they aren't a lot."
Sullivan is on the cover of Ebony's March 2016 issue, which they've dedicated to black women of size. Alongside Sullivan are Orange Is the New Black star Danielle Brooks, singer Chrisette Michele and blogger Gabi Fresh.
Sullivan hopes the image of these four women can inspire people to be proud to be themselves. 
"I know that I represent a lot of women out there who aren't used to seeing themselves portrayed, and I'm happy to be that woman," she said. "I feel everybody needs to see themselves. Everybody needs to be able to look up to someone and see somebody that looks or acts like them so that they can be inspired."
Putting a plus-size model on the cover of a magazine is becoming more common. When Women's Running magazine put a plus-size running model on its cover, people fell in love with it.
Sports Illustrated made history when they put plus-size women on the cover of their famed swimsuit issue. People on Twitter even clapped back when former model Cheryl Tiegs criticized the magazine for its choice of model. 
Sullivan hopes her cover furthers that conversation and also refocuses it to the music industry. 
"I feel it's all about representation," she said. "So I feel like I'm needed as far as being seen on covers and in magazines. Women who look like me, women with regular bodies need to see women that look like themselves. So I would love to be one of those women to represent them."