Old Spice Causing Chemical Burns? Procter & Gamble Is Being Sued for $15 Million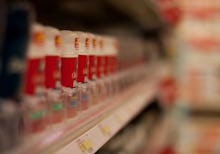 In a tale of personal hygiene gone awry, Procter & Gamble is being sued for more than $5 million in a class-action lawsuit over 13 allegedly defective Old Spice products, according to the Indianapolis Star. The lawsuit was filed in the U.S. District Court in Columbus and included complaints from people in North Carolina, Pennsylvania, Washington, Arizona and Ohio, with the lead plaintiff named as Rodney Colley from Virginia. 
"I got out of the shower on Monday morning and it felt like my armpit was on fire," Colley told Independent Journal Review. "So I looked in the mirror, and sure enough the skin around it started scabbing." Colley said that no other deodorants have caused him such discomfort, according to BuzzFeed. Personally, Colley is seeking $25,000 in damages, according to New York Magazine. 
The lawsuit claimed that Old Spice products have irritated the skin of hundreds of "unsuspecting customers," causing chemical burns and rashes — and that the bounds of evidence are posted right online.
Read more: I Used Men's Beauty Products for a Week — Here's What It Did to My Wallet and My Body
"Indeed, the problem is rampant, and rather than acknowledge the serious issue, Defendant is concealing it, in order to continue selling the product and reap windfall profits," the lawsuit states, according to the Indianapolis Star. 
Procter & Gamble refuted the claims, saying in a statement that only a "small number of men may experience irritation due to alcohol sensitivity, a common ingredient across virtually all deodorant products." It suggested that those affected use a different formula of antiperspirant instead. Company spokesman Damon Jones said the burns "are not exclusive to Old Spice."
Some of the scents named within the suit were Pure Sport High Endurance, Arctic Force High Endurance and Bearglove, according to New York Magazine. The Old Spice brand has a satisfaction rating of about one star out of five on Consumer Affairs, with several complaints of burning listed.