A Woman Was Threatened With Handcuffs After She Refused to Remove Her Hijab in a Library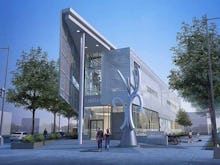 On Wednesday, a Washington, D.C. police officer reportedly approached a Muslim woman in the Watha T. Daniel/Shaw Neighborhood Library and asked her to remove her hijab. 
The story came to light when Jessica Raven, a director of the grassroots organization Collective Action for Safe Spaces who witnessed the encounter, reached out to DCist.
"The man next to her spoke up, but the officer continued to harass her," said Raven. "Ultimately he came towards her in an intimidating way, pulled out his handcuffs and said if she didn't want to take off [the hijab], she had to leave."
Following the incident, a spokesperson from the library told DCist that the officer had been removed from the location and that the police were investigating the incident, part of which will involve determining the identity of the woman who was allegedly harassed.
Read more: This 15-Year-Old British Girl Just Schooled the World on Islam and Islamophobia
Muslim American Women's Policy Forum Co-founder Darakshan Raja said in an interview with DCist that she believes Tuesday's attacks in Brussels have ushered in yet another wave of racism, leaving many Muslim-Americans shaken.
"My heart is with her," Raja said of the woman, whose identity remains unknown.
On Tuesday, journalist Raza Ahmad Rumi shared an infographic that demonstrated just how microscopic the combined population of ISIS, al-Qaida and the Taliban is relative to the global Muslim population. 
"Yet ALL Muslims have to share collective guilt and punishment?" Rumi wrote.
Later in an interview with the Huffington Post, the officer, identified as Timothy Craggette, told the outlet he didn't believe the woman's headwear was a hijab or a religious garment of any kind — he thought it was a hoodie.
"It was not a religious hat that I know. She didn't have that," explained Craggette. "I asked her to take her hoodie off and told her: 'If you're not going to take it off, you have to leave.' So I pulled out my handcuffs and then she got up and she left." 
He told the Huffington Post that he is familiar with what a hijab looks like, and that it's protocol to ask people to remove hoodies, though the library spokesperson said there's no official policy that says so.
"It's a moment of a lot of fear for Muslims, especially Muslim women," Raja told DCist. "After Brussels happened, I know women in D.C. who were afraid to leave their house." 
March 25, 2016, 3:00 p.m. Eastern: This story has been updated.