Non-Creepy Man Tries to Win Over Woman Who Blocked Him on Tinder With Non-Creepy Note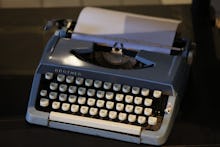 Every so often, a woman is so creeped out by a man's behavior on Tinder she is forced to block him. If the blocked man in question is a semi-rational person, he'll probably just cut his losses, acknowledge that he'd been kind of a dick and move on. But if he's completely delusional, he'll whip out his laptop, craft a longwinded response to the woman who rejected him, print out multiple copies and tape them to a telephone pole for all to see. 
This is the story of such a man. 
The above photo was tweeted this week by Los Angeles-based user Vernon Shaw, who claimed to have encountered the sign in the city's Koreatown neighborhood. It was subsequently posted on the subreddit r/niceguys. 
The flier is addressed to a woman named "Mollie," who the author believes blocked him on Tinder. "I hope I'm not making you feel uncomfortable or badly in any way by posting these fliers," he wrote in the flier's addendum (yes, there was an addendum to the flier). 
"If you're the kind of person I have a feeling you are, I think you'll contact me," he concludes. Yeah, we think this tweet pretty much sums it up:
In a sad testament to the number of psycho men roaming the earth, this isn't the first time something like this has happened. A similar flier went viral a few weeks ago, except instead of being addressed to one specific woman, it was a message for all women who choose assholes over so-called "nice guys."
We've reached out to Shaw to get more information about the note, and will update if we hear back. But, assuming it's legit: Did these gentlemen not get the memo that everyone is going paperless these days? Probably not!
Did they also not get the memo that women should be able to reject whoever TF they went to, whenever TF they want to, without having to worry about being stalked by a dude with a roll of Scotch tape, a word processor and way too much time on his hands? Also probably not!