Ben Affleck Reacts to 'Batman v Superman' Reviews In This Hilarious Meme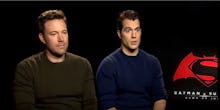 His first superhero venture as Daredevil yielded very poor results — ironic too, given the success of its Netflix TV series counterpart — but Ben Affleck's casting as Batman held more promise as a follow-up to Man of Steel. Unfortunately, the sequel, Batman v Superman: Dawn of Justice, has been panned by critics so far (scoring even lower than Daredevil on Rotten Tomatoes). 
Making their media rounds to promote the film, Affleck and co-star Henry Cavill sat down with Yahoo Movies UK on Thursday, and the conversation ventured into the movie's poor critical reception. While Cavill offered up a candid, diplomatic answer, Affleck's expression remained somber, calmly adding "I agree" at the end of Cavill's response. 
Read more: Which Superheroes Will Appear in 'Batman v. Superman'? Quite a Few, Actually
The internet was quick to react, with YouTuber Sabconth dubbing "The Sound of Silence" over the clip — slowly zooming in on Affleck's expression. 
Just like that, another meme was born: #SadAffleck. Responses and similarly creative renditions flooded the Twitterverse.
While Dawn of Justice might not see the praise Affleck would hoped for, at least his son looks up to his dad as a hero. Quite literally, as he thinks his father is Batman.