This Baby Was Born With the Most Absurd Head of Hair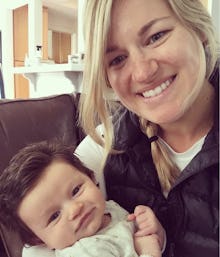 When Mackenzie and David Kaplan posted a picture of Mackenzie with their infant girl, Isabelle, on social media, they never anticipated it would morph into a national news story.
But perhaps they should have. Because that baby's head of hair defied the laws of the universe. It just so happens to be naturally perfectly coiffed, too.
How did Izzy do it? According to the Kaplans, who gave Good Morning America an exclusive on the breaking story, she was just born that way ("that way" meaning "kinda like George Stephanopoulos").
A day after the Kaplans posted their picture, Isabelle's cousin reposted it to Imgur, with the comment, "My baby cousin has hair that looks like a news anchorman." 
Cue the viral chaos. There was a flurry of comments, with comparisons ranging from Ron Burgundy to a Lego minifigure — which, frankly, is hard to argue.
And what viral story is complete without some shoddily-made memes?
There are rumors Rogaine is looking into converting the hair into a magic potion. We'll keep you posted.