Brussels Bombing Survivor Wrote This Heart-Wrenching Letter to Her Unborn Baby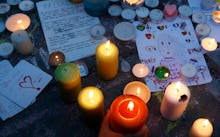 Sneha Mehta and her husband Sameep had arrived Tuesday at the Brussels airport after a trip to Dubai when the building was rocked by a series of explosions. "I absolutely didn't know which direction to run in," Mehta told CNN on Friday. With the ceiling falling down around them, and the air clouded with smoke, she and her husband ran out of the building through a parking garage, winding up on the highway where a taxi driver picked them up and took them to the hospital, CNN reported. 
Read: This Powerful Cartoon Has Become a Symbol of Solidarity After the Brussels Attacks
Mehta's primary concern was her unborn child; she is 16 weeks pregnant. Doctors at the hospital confirmed that both she and her unborn child were healthy and safe. The ultrasound even showed her baby sucking its thumb. 
When Mehta, 28, and her husband arrived back at their home in Antwerp, Belgium, she felt compelled to tell her unborn child about the day they had survived the terror attack, later claimed by ISIS, that killed at least 34, left more than 200 wounded and rocked Brussels to its core. Mehta read the letter aloud in a video Wednesday for ITV News.
"Hi Sweetheart," the letter begins, "I don't know if we already acknowledged this with you in person, but when you were 16 weeks old, mum and dad were in an explosion at Brussels Airport. And no matter where humanity is today, I just want to tell you that life is a wonderful thing, and the world is really full of remarkable people."
Mehta went on to share her hopes for the future of her unborn child — and for the world. "When we reached Sint-Augustinus emergency, and we saw you oblivious and sucking at your thumb at the ultrasound, and doing your general acrobatics, all the mistrust, hate and angst for the terrorist attack vaporized. I do hope with all my heart that you are born into a better world, and if not, then you do absolute best to make it that," she said.
Mehta's letter is yet another example, even in the face of terror, hatred and violence, of the human capacity for love, hope and resilience.
She ended the letter with, "May you always be brave and healthy. We love you beyond words. Mum and Dad."
h/t CNN