ISIS Just Bombed an Iraqi Football Stadium, Killing At Least 29 and Injuring 60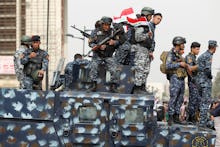 ISIS has claimed responsibility for a suicide bombing at a football stadium just outside Baghdad, killing at least 29 and injuring 60, according to Associated Press. 
There are conflicting reports as to the exact number of fatalities and wounded, with Reuters reporting 26 and 71, respectively, to AP's 29 and 60.
The blast occurred in Iskandariya, approximately 25 miles south of capital Baghdad at 7:15 p.m. local time, Reuters adds. 
"They were just handing the trophy to the winners — the suicide attacker blew himself up in the crowd," a local police captain told Agence France-Presse.
ISIS' official news agency, Amaq, reportedly announced the group was responsible for the blast shortly afterward. 
This makes it the terrorist network's second attack this week, after the coordinated blasts in Brussels, Belgium, on Tuesday that left 34 dead and up to 300 injured. 
This story will be updated as more information becomes available.