New Report Shows Millennial and Minority Voters Face Huge Obstacles at the Polls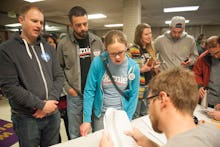 Young people are far more likely to face wait times to vote than their older counterparts are, and may find themselves largely locked out of primary voting because of laws limiting participation to a party system that turns millennials off, a new study finds.
New York University School of Law's Brennan Center for Justice teamed up with Craig Newmark of craigconnects and craigslist to survey 1,006 people over the age of 18, and found that millennials face numerous obstacles to voting — and will continue to, unless there is significant reform. The Brennan Center gave Mic an exclusive first look at their analysis.
Read more:
Put on hold: Millennials and Gen Xers are three to four times more likely to have to wait in line than older voters, such as Baby Boomers, the study found.
Why? Lots of reasons.
"Millennials are more likely to bear the brunt of the lack of planning because they're more likely to live in the communities that are underserved in election resources," the Brennan Center's Wendy Weiser said in an interview.
What's more, four times as many African-Americans and six times as many Latinos report waiting in line for 30 or more minutes than whites who said the same, the new study found.
Overall, when it comes to waits and obstacles, "It's not just minority communities," said Weiser, head of Brennan's Democracy Program. "It's also college communities."
Younger people with less control over their work or study schedules may also be more inclined to register or vote at peak hours, while other groups, such as retirees and people with higher levels of professional autonomy, have more leeway in showing up when lines are shorter.
Not in the mood to party: "One thing that's a big deal this year is how millennials are being shut out of the primaries," Newmark said in an email.
"Half identify as independents and that means in almost a dozen states — and big ones like Florida, New York, New Jersey, Pennsylvania — they can't vote in the primaries," he said. "They have no say in who the candidates end up being."
"That's not fair."
Voters are given the choice of joining a party when they register. They may enroll with as members of the major parties that largely control the political process — Democratic or Republican — or with a wide slate of smaller parties.
But many millennials, fed up with the traditional political system, opt to register as "unaffiliated" or "blank," pledging their allegiance to no single party.
That classification may best describe their feelings of non-partisan independence — but it also locks them out of primary-round voting in states where for better or worse, participation in the nomination process is limited only to party members.
The numbers aren't small, either. The researchers say 19 million millennials who consider themselves independent rather than party members are unable to vote in key states with closed primaries or caucuses.
Can we see some ID? The new study also argues that voter ID requirements in certain states mitigate against particular sectors of the electorate, including:
• College students and low-income people or families with no permanent address
People studying at university may face extra barriers to voting, Weiser noted:
College students actually have a choice of where to vote depending on where they consider their home. They can either vote in their parent community where they came from or in their college — and I think that's how it should work — but there are some places [that] have in recent years have made it harder for college students to invoke their option to use their college residence.
When it comes to voting, she said, "College students are treated often differently than other residents that are considered temporary."
Why not ID? Advocates of voter ID laws insist they're not onerous — and that participating in American democracy shouldn't require a lower standard of proof of identity than a plethora of common activities.
As Stephan and Abigail Thernstrom, respectively a Harvard professor emeritus and an official of the U.S. Commission on Civil Rights, pointed out in a Los Angeles Times op-ed:
You cannot board an airplane, ride an Amtrak train, buy a six-pack of beer or a pack of cigarettes, open a checking account, enter many public and some private office buildings or even attend an NAACP convention without proving that you are who you say you are. You cannot even qualify for means-tested public support programs such as Medicaid without valid identification.
The duo also noted in the same 2012 piece that:
Over the last four presidential elections, nearly 40% of American citizens eligible to cast a ballot did not bother to do so. It is reasonable to surmise that a high proportion of the people who had not taken the trouble to get a government-issued photo ID may be among that huge group of no-shows. If they weren't going to vote anyway, new ID laws wouldn't affect their behavior.
Fixing it: Newmark and the Brennan Center's scholars suggest what they call some common-sense reforms that would make voting easier and faster for a larger number of people, including millennials.
"It is not too late to put in place, right now, plans so we don't experience these long lines or dramatic disparities," Weiser said.
Much of this comes down to money and management — especially in an election cycle in which candidates like Democrat Bernie Sanders and Republican Donald Trump have gotten people fired up about the process of picking a new president, sometimes with tumultuous results.
For example, Weiser said, "We haven't adequately planned for turnout or allocated election resources in a way to ensure that people are not waiting too long."
Election officials can make sure there are adequate check-in tables, up-to-date voter rolls and enough available translators to assist voters, she said — especially when more people are expected to show up than in the past, as was the recent case in Nevada and Utah. They can also employ established crowd control methods to make sure lines keep moving.
"This is all something we can plan for," she said. "It's not too late to plan for it to [take effect in] 2016."
Raising your voice: More broadly, various reform advocates are pushing for online voting — though that can get complicated — as well as mail voting, early voting, instant runoffs for close-call elections, same-day voter registration and pre-registration for teenagers approaching voting age, as well as open primaries.
And if knowledge is power, it seems many people lack at least the former. The new craigconnects-Brennan research showed three-quarters "of the U.S. has not been encouraged to participate in their state's primary or caucus" and fully half "of Americans don't know where to go for information" about their state's primary or caucus.
While some reforms will take more work at the legislative level to enact, advocates are clear that some changes can and should be made in time to smooth the path to voting in November's presidential election.
"People really are engaged," Weiser said. "They shouldn't be turned off or turned away."
Get the five stories that will challenge you to rethink the world by signing up for MicCheck Daily.