Lifeline Could Revolutionize Welfare and Bring Wi-Fi to the People — But It's Not Enough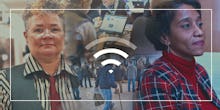 Bridgid Skiba walks through San Francisco, searching for some goddamn Wi-Fi so she can get her homework done. Her phone outstretched, she scans for signals like a metal detector, flying through lists of home networks to find one an unsuspecting family forgot to lock. Finally, standing on the sidewalk, she spots some public Wi-Fi. She stops, sits down right where she is, crosses her legs and starts her homework.
Skiba is 53 years old. She was an EMT for nearly two decades before California Pacific Medical Center let her go in a massive round of layoffs, leaving her in need of a sudden career shift, with an education to match. Now she's studying computer science and engineering at the City College of San Francisco. Everything she needs to pass a class — her syllabi, quizzes, reviews and handouts — is accessible only through a web portal.
In a city where many opportunities are determined by access to technology, Skiba and others who can't afford home internet service are at an even greater disadvantage.
Americans living in poverty are drastically less likely to have internet access, and Skiba is one of the 55 million Americans without broadband at home. They're also most in need of Wi-Fi when looking for more gainful employment. Thirty-four percent of all job seekers in America consider the internet the most important resource when looking for a new job. Forty-eight percent of Americans making less than $25,000 a year are without a broadband connection — one of the tools they need most to achieve financial stability.
In 2016, broadband isn't a privilege — it's a necessity. Access to it can make or break someone's ability to find a job, reeducate herself or keep in touch with loved ones. In order to bring it to more people, the government is proposing a radical addition to American welfare benefits.
On the morning of Thursday, March 31, at an open meeting, the FCC will vote on whether or not to expand an old program called Lifeline to give families a $9.25 monthly subsidy toward putting broadband in their home.
It's a step in the right direction. It's also an extremely flawed solution.
The Underground Network of People With No Internet
Skiba keeps a mental schedule of where to find Wi-Fi at any hour of the day. She can get online at certain places around her college campus — the library is good, the science hall is a dead zone. She knows the coffee shops and hotel lobbies where she can find uninterrupted study time. In school hallways after hours, or at public libraries, Skiba sees dozens of others hanging around for the same reason. They swap tips on where to go next.
Skiba is lucky in one sense — she lives in an urban center, where collaborative work spaces and public Wi-Fi are relatively bountiful. For many rural Americans, the most reliable spot for free Wi-Fi is often the nearest McDonald's.
For Chivona Roberts, 28, the closest McDonald's is a 45-minute drive from her home in Utica, Mississippi. Roberts makes the trek and camps out for hours at a time. Employees don't ask her to buy anything. They know she's busy doing her homework.
Roberts teaches physical education at a local school while finishing a B.A. in public relations. She sometimes brings her two children, ages 3 and 5, to McDonald's with her. At her school and at home, she's surrounded by kids who are fluent with tablets and smartphones but don't have a connection in their own homes.
Broadband Is a Necessity
Among adults struggling to advance their careers and grade-school kids whose entire coursework lives in the cloud, being poor often means a lack of access. No access makes it harder to escape poverty. It's called the "homework gap": 31% of all homes with children that have household incomes under $50,000 are without broadband.
It's called the "homework gap": 31% of all homes with children that have household incomes under $50,000 are without broadband.
"My kids know how to operate iPads; they know how to go to YouTube and look up something educational," Roberts told me. "They know how to find everything. But I don't have internet at home, so she's missing out on that."
Without broadband, Roberts and her family are missing out on rudimentary, necessary services for anyone trying to keep up in the 21st century: access to world-class email systems and social networks, job-search boards, elementary school lessons for children and developing education for adults.
Because broadband is so expensive, lower-income families rely on smartphones more than the rest of Americans. But 48% of all smartphone-dependent people have had to cancel their service at some point due to financial constraints.
The Campaign to Revamp Welfare and Bring Wi-Fi to the People
On March 1, Roberts and Skiba met in Washington, D.C., joined by half a dozen others without broadband. They were the face of a coalition of grassroots organizations — like the Media Action Grassroots Network and the National Hispanic Media Coalition — that were demanding reforms to FCC's Lifeline program.
Lifeline is a Reagan-era initiative, established in 1985 as part of the Universal Service Fund to subsidize access to the best technology of the day. The benefit provides a single subsidy of $9.25 per household per month to cover phone bills for those who are at 135% of the poverty limit.
In 2005, the program was expanded to include cell phone coverage. Last year, FCC Commissioner Mignon Clyburn declared that it was time to take another step forward. She proposed that Lifeline expand to cover internet access as well — a proposal Clyburn cast as a "21st-century blueprint" for reforming the program.
"A rebooted program could be the best investment this government makes," she said in a statement at the time. "The reverberating benefits to society will be tremendous."
For Lillian Tillman, who lives in New Orleans, Lifeline was the only way to get a landline she could use to speak with her incarcerated son. But now, Tillman is trying to complete a degree in criminal justice at Ashville University. Her local McDonald's is often too loud, and library computers aren't always available. Sometimes she uses the Wi-Fi at her sister's house or where her mother lives.
"I have to write a 20-page paper, but I had to start a week ahead of time," Tillman told me in Washington, D.C., where she met up with the activist delegation. "Being able to take classes online is for me a necessity. I have to have internet."
Republicans Shame the Poor to Discredit Lifeline
Until now, when people wanted to sign up for Lifeline, they needed to prove they were in need of assistance. For convenience's sake, the companies providing phone services verified eligibility themselves. Some small telecoms realized that if they relaxed their standards, they could advertise Lifeline as a free discount program and sweep up new customers by the thousands — signing up working-class customers for new plans, whether or not they were qualified. An investigative reporter managed to sign up for the program when an employee of Total Call wireless gave them someone else's food stamp card.
These incidents have been used to flog Lifeline, with critics charging widespread abuse throughout the program. These critiques serve as an updated, techie version of the Reagan-era "welfare queen." In 2012, conservative media dubbed Lifeline the "Obamaphone" program, a conservative code word for a public assistance program rife with corruption.
That's par for the course. "If there's any program out there to help lower-income people, we're going to hear about waste, fraud and abuse," Minnesota Democratic Rep. Keith Ellison said in an interview earlier this month. "If they're so worried about waste, fraud and abuse, let's audit the Pentagon. If they're so worried, let's get rid of billions of dollars of oil, gas and coal subsidies we give away."
The average rate for wasteful spending in government programs is around 4.5%. In 2014, the FCC estimated that Lifeline's rate of fraud was 0.32%.
It's a Promising Step — But People Need So Much More
As much as regulators croon over the importance of bringing people into the 21st century with full access to broadband, the proposed expansion of Lifeline into broadband isn't nearly broad enough.
Unlike many other forms of public benefits, Lifeline is limited to one subsidy per household. If you receive food stamps or Medicaid, you get support and insurance for each member of your household. Whether a household consists of one person trying to fill out online job listings, or a family with children who need cellphones to do homework or check in with parents, it gets a single subsidy of $9.25.
So if someone already uses the Lifeline subsidy on a cellphone plan, the new expansion will not mean they get a new subsidy. They'll just choose whether they want to apply the $9.25 they were already receiving to their cellphone bill or their broadband bill.
Rural areas have dramatically less coverage and competition for premium service, and 53% of rural Americans don't have access to the internet at the FCC's recommended speed, as shown in this interactive map.
In rural Michigan, families waiting on federal grants can pay $600 for a monthly bill. In Alabama, classrooms can be instantly incapacitated when schoolhouses regularly lose access.
Tillman, who spent her whole life in the 7th and 9th wards of New Orleans, has seen the city attempt to slowly rebuild in the decade following Katrina. But its broadband still rates as one of the worst of any American metropolis.
"Why do we have bike lanes, or we're building another streetcar track, but our kids are still in trailers with no books?" Tillman said. "They say, 'It's a tourist city.' But no. We live here."
Roberts' options are limited, too. When she was given her first Lifeline phone, which was offered without a charger, it didn't get service in her home. She can get internet from a single, expensive provider, but a 15-mile drive toward Jacksonville offers her far more options.
A cousin of Roberts responded by snagging a mobile Wi-Fi hotspot long enough to get a job in Florida. Now that Roberts can look for work online, she knows she could relocate somewhere with more opportunity and better coverage — maybe Texas, where she believes she could find work making twice as much.
"If you stay in Mississippi, you're limiting yourself," Roberts told me. But she doesn't want to give up on her home just yet.