George W. Bush Left This Waitress a Huge Tip, and Her Tweet About It Is Going Viral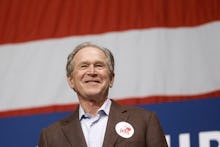 The "George Bush did 9/11" meme is everywhere. Thought to have originated at some point during a Charlie Sheen interview circa 2006, it's coated the walls of the internet ever since in mocking, faux-9/11 conspiracy theorist accusations. The joke enjoyed a brief resurgence in 2015 in the Skrillex-Diplo-Justin Bieber collaborative music video "Where Are Ü Now," and has now officially made a cameo in 2016 after a waitress who served the former president tweeted about the experience. 
"Bush did 911 but he did me a solid and left me a hella tip #" the tweet, posted by Twitter user @leisaiscool, reads. 
When it came time to leave gratuity, the former president didn't just part with loose change. According to @leisaiscool, who goes by Leisa, Bush left a $40 tip on his $21.47 bill.
When reached for comment, Leisa noted that her use of the meme was purely intended to generate laughs, not outrage.
"I have a couple of friends that use the meme a lot and they were the only ones I was expecting to see the tweet. I was just trying to get a laugh out of my friends but I in no way actually believe the conspiracy," she said.
Dining with his wife, former first lady Laura Bush, Leisa said that Bush ordered a water and burger with onion rings, with strict instructions not to let mustard anywhere near the burger.
Leisa said that Bush was "the sweetest person [she] ever met," referring to everyone in the restaurant as "baby". 
Sent out to her small Twitter following of about 200 users at the time, Leisa said that she never expected the tweet to receive as much attention as it did, and was worried about revealing the name of the restaurant she worked at.
She also worried that people would take the joke literally, and was adamant that she did not actually think that George W. Bush was the mastermind behind the 2001 terrorist attacks.  
"I actually completely respect Bush and I don't think he actually 'did 9/11,'" Leisa said. "It was just a little tip at the huge joke that everyone says, and I didn't expect anyone to see the tweet except my 200 followers at the time."
While a 200% tip is plenty generous, the former president probably wasn't spread too thin in giving it: According to Time, Bush is currently valued at around $20 million.