The Kardashians Just Threw Chrissy Teigen The Most Relatable Baby Shower of All Time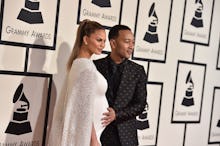 Any party thrown by Kourtney, Khloe Kardashian and Kim Kardashian-West is bound to be well-attended by Hollywood elite. But at Chrissy Teigen's second baby shower in Los Angeles on Saturday, the real star of the event was the spread on the buffet table.
During the celebration of down-home, relatable pregnancy cravings, lucky guests were free to help themselves to catered junk food and glasses of rosé. 
"McMuffins, Frosties, Taco Bell... I cannot handle what happened today," Teigen gushed on Twitter.
The event was attended by the Kardashian sisters and matriarch Kris Jenner, as well as A-list stars like Jenna Dewan-Tatum and Jen Atkin.
In addition to fries and hash browns, guests were treated to a customized Snapchat filter for the event, which featured Chrissy's name in a perfect cursive font.  
Teigen, who is expecting a baby girl this summer with husband John Legend, took to Twitter to express gratitude for the kindness of her posse.
"I've officially had more showers than I've attended. I have the greatest friends on this entire planet. She's so lucky, it's actually unfair," Teigen tweeted, referring to her unborn daughter in the post.
The couple has been vocal about their struggle to conceive, and announced their pregnancy to much celebration in October.
With so much love, positivity and fast food surrounding her already, it seems like Chrissy's little one will be born into a charmed life.