2016 Results: Bernie Sanders Sweeps Democratic Caucuses in Alaska, Hawaii and Washington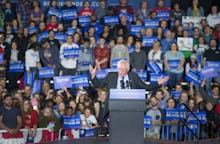 It was precisely the kind of victory Bernie Sanders needed. The Vermont senator swept Saturday's Democratic caucuses in Hawaii, Alaska and Washington state, adding a total of 55 delegates to his count for the Democratic National Convention and closing the gap on the party's frontrunner, Hillary Clinton, by a few degrees.
Read more: Topless Woman Interrupts Bernie Sanders at Phoenix Rally
"We knew from day one that politically we were going to have a hard time in the Deep South," Sanders said Saturday, according to the New York Times. "But we knew things were going to improve when we headed west."
According to the Times, Clinton still had some 280 pledged delegates and 440 superdelegates more than Sanders as of Saturday evening. Still, the not-unexpected sweep is a welcome one for the senator's camp, which has suffered defeats across the southern states in weeks past. On Tuesday, Sanders also won in Utah and Idaho — the West has proved to be far more fertile ground for the senator's campaign than has the South.
In Washington, the most advantageous state up for grabs on Saturday, Sanders won 73% of the vote for 25 delegates; Clinton won 27% for nine. In Alaska, Sanders took 82% of the vote for 13 delegates, while Clinton received 18% and three delegates. Finally, in Hawaii, Sanders came in at 70% and won 17 delegates, while Clinton received eight with 30% of the vote.
Saturday brings the Vermont senator's delegate count up to 975 and the former Secretary of State's up to 1,243 of the 2,383 delegates necessary to secure the Democratic nomination. The next contest will be Wisconsin's primary on April 5.