Will Beyoncé's New Album Drop on April 4? Conspiracy Theory Has Fans in a Frenzy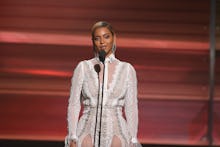 While Beyoncé is taking her daughter Blue Ivy to adorable tea party dates and Snapchatting selfies with Jay Z and Usher, the BeyHive is holding onto their edges and the rest of the world is in a tumultuous state of never ending panic at the threat of a Bey album drop at any minute. 
The consequences of a brand new Beyoncé album would certainly be catastrophic, decimating what's left of the music industry in 2016 and sending millions of people into quarantines until each track has been played ad nauseam — and an ingenious few have seemed to set a date for the surprise release. 
A number of fans across Twitter, as well as tabloid entertainment sites, have placed April 4 as the fateful day the world will be forever changed. And when you consider the prominence of the number four throughout  the entertainer's life, it seems to make symbolic sense if she were to choose the fourth to drop her forthcoming project. 
Read more: The BeyHive Had Their Weaves Snatched By Beyoncé's "Formation" Super Bowl 50 Performance
Think about it — Beyoncé's birthday lands on Sept. 4.  Her husband's? Dec. 4. Their wedding anniversary? You guessed it — April 4. She's named an album 4, her ring finger tattoo are the roman numerals for four (her daughter's middle name stems from the roman numerals as well) and she even dropped a surprise song and video on Tidal last year on April 4. Some listeners are pointing to her latest single "Formation," declaring the album will follow suit as an unapologetically pro-black anthem. So, on that note, what's the historic date of Dr. Martin Luther King, Jr.'s death? April 4. 
All this coupled with the fact that Beyoncé's fans have already been waiting tirelessly for the album, and the upcoming April 4 deadline seems to make sense. However, nothing is confirmed — after all, it's Beyoncé we're talking about, and perhaps a date seemingly so obvious to figure out might be too easy to be true. 
That hasn't stopped the BeyHive from buzzing:
Some theories leaned more heavily on the fundamentals of math and science:
One thing is for sure, however — Beyoncé's "Formation" world tour kicks off April 27 in Miami, and unless she's planning on doing a one-song world tour, the queen of music better get to dropping (into formation).