#BlackWomensHistoryMonth Hashtag Is Shedding Light on the Black Women History Forgot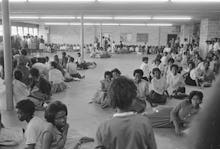 March is Women's History Month. However, the celebration of this month tends to leave out the accomplishments of women of color. A Twitter hashtag, #BlackWomensHistoryMonth, was created in order to remedy the erasure of black women and their accomplishments during Women's History Month.
Reggie Cunningham, also known by his Twitter name @kidnoble, sparked the hashtag by posting an image of a notable black woman every day at 9:30 a.m., along with a thread of tweets explaining their contributions to society. 
The hashtag features the accomplishments of an entire spectrum of Black women, from actress Hattie McDaniel, who was the first African American to win an Oscar, to Song of Solomon author Toni Morrison, to Marjorie Lee Browne, one of the first black women to receive a doctoral degree in Mathematics. 
Read more: Amandla Stenberg to Star in Black Lives Matter-Inspired Film, 'The Hate U Give'
Origins of the celebration trace back to the 1980s, when Congress passed legislation designating the week of March 7 as "Women's History Week." 
"As leaders in public affairs, American women not only worked to secure their own rights of suffrage and equal opportunity but also were principal advocates in the abolitionist, temperance, mental health reform, industrial labor and social reform movements, as well as the modern civil rights movement," the proclamation, signed by then-President Ronald Regan, read. "Their dedication and commitment heightened awareness of our society's needs and accelerated our common efforts to meet those needs."
In 2008, under President George W. Bush, the week became Women's History Month. 
h/t: Mashable