Bernie Sanders Wins 'Swipe the Vote' Tinder Campaign, Ted Cruz Leader Among Republicans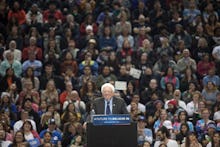 The dating app Tinder and Rock the Vote, a non-profit organization that seeks to draw younger voters to the polling stations, created "Swipe the Vote," a campaign to help Tinder users decide which presidential candidate's values align with their own. 
Asking questions like "Keep same-sex marriage legal?" or "Repeal Obamacare," the app allows you to swipe right if you agree on the 10 separate issues it poses, and then left for no. On Friday, Tinder released their findings, and Vermont Senator Bernie Sanders was the favorite on the dating app, matching with 37.8% of swipers. 
Read more: Ted Cruz Blames Donald Trump's "Henchmen" for 'National Enquirer' Story on Alleged Affairs
Former Secretary of State Hillary Clinton was only 200 matches behind her Democratic rival Sanders, but Clinton won 30 states to Sanders 21. Clinton also outperformed Sanders with male voters, at 35.5%, while more women matched with the senator. 
There was a large gap between the Democratic and Republican candidates. Texas Senator Ted Cruz matched with only 14.3% of swipers, while GOP frontrunner Donald Trump only received a poor 8.1% of Tinder matches. Ohio Governor John Kasich bottomed out at a tragic 2.3%. Cruz received 19.5% of the male matches, but only 8.5% of women matched to the Texas senator's ideals. 
Tinder will keep the 'Swipe the Vote' campaign during the entire Presidential election season, and will add additional results at a later date.