Suicide Bomber Kills Dozens in Pakistan During Easter Celebration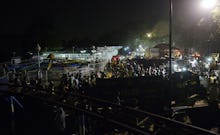 An explosion in Lahore, Pakistan has killed at least 60 people, and the death toll is still climbing. 
Rescue officials said that at least 300 others were injured in what is thought to be a suicide bombing, which took place as Christian families gathered to celebrate Easter in Gulshan Iqbal Park. Reuters reports that most of the victims appear to be women and children. 
Jamaat-ul-Ahrar, a faction of the Taliban, has claimed responsibility for the attack. A spokesman for the militant group told the Associated Press that the suicide bombing deliberately targeted the Christian community, and said that more attacks would follow.
Large crowds had gathered to picnic in the park, which features sprawling lawns and and a boating lake. According to a local police chief, the blast took place near a set of children's amusement rides just as many families were beginning to head home. 
Hospitals around the city were placed on emergency alert as doctors worked to attend to the wounded.
Javed Ali, who lives near the park, told the Independent that the blast shattered the windows of his home and left human flesh stuck to the walls.
"[The park] was overcrowded because of Easter — there were a lot of Christians there. It was so crowded that I told my family not to go," he said. 
The severity and frequency of attacks on Pakistan's religious minority has been a problem for years, with the country currently facing a Taliban insurgency along its border with neighboring Afghanistan.
March 28, 2015, 11:45 p.m.: This story has been updated.