Mariah Carey Brussels Concert: Singer Cancels Performance After Brussels Terror Attacks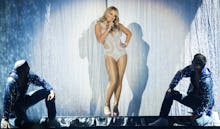 Mariah Carey has cancelled her Easter Sunday show in Brussels, despite the venue moving forward with all of its scheduled concerts after Tuesday's deadly terror attack in the European metropolis, the BBC reported over the weekend. The singer, who's tour kicked off in Scotland last week, told fans on Twitter she was encouraged to cancel the performance, however.
"I am being advised to cancel my show for the safety of my fans, my band, crew and everyone involved with the tour," Carey wrote Friday. "I hope to see you soon and send my prayers and eternal love, laughter and light to my Lambs."
Read more: Did Jennifer Lopez Shade Mariah Carey? J Lo Responds After Fake Brussels Tweet Circulates
The Brussels venue is encouraging fans to continue attending shows despite the multiple blasts at the Zaventem airport and Maelbeek airport and train station — an attack by ISIS which claimed the lives of at least 34 people and injuring hundreds others. 
"Guests are asked to come early and not bring any luggage, backpacks or large handbags, to respond to any requests of security services and to stay alert," the arena's site says, according to the BBC. 
However, it isn't unlike an artist's camp to cancel an event in the midst of terror. Previously, both rock bands U2 and Foo Fighters cancelled their Parisian concerts after last year's ISIS attacks in the country killed 130. The most gruesome of the attacks occurred at the Bataclan concert hall during a U.S. rock band's show.
Carey has not said whether she will reschedule the performance, which is a part of her Sweet Sweet Fantasy tour.