Facebook Glitch Sends Safety Checks for Lahore Bombing to People Worldwide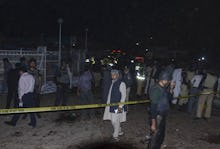 Facebook's Safety Check feature is a pretty good idea. On Tuesday, it updated users on the status of their friends and loved ones in Brussels following terrorist attacks in the Belgian capital. On Sunday, however, an apparent glitch in the Safety Check systems sent push notifications to people who were nowhere near Lahore, Pakistan, where a suicide bombing left at least 60 people dead and some 300 more injured. 
Read more: Suicide Bombing Kills Dozens in Pakistan During Easter Celebration
"Facebook Safety Check: Are you affected by the explosion?" the text alert read. "Reply SAFE if you're ok or OUT if you aren't in the area."
Which is an alarming thing to see upon opening your phone, not least because there's no location specified. The social media company seems to have overestimated the range of the attack, sending out alerts to people worldwide. 
In an emailed statement to Gawker, a Facebook rep did not confirm that the notification was the result of a technical malfunction but did say that its wide dissemination was a mistake.
"We have activated Safety Check in Lahore," the statement reportedly read. "We apologize to anyone who mistakenly received a notification outside of Pakistan and are working to resolve the issue."
Sunday's blast went off in Gulshan-e-Iqbal Park near the swing sets, killing mostly women and children. No person or group has claimed responsibility for the bombing yet, and there's no official word on whether or not this was a strike against the country's Christian minority. It comes on the heels of suicide bombings by the Islamic State in Brussels, where more than 30 people died and over 230 were injured.  
The first violent event to prompt a Safety Check alert came on Nov. 13, when coordinated shootings by ISIS members in Paris left over 100 dead and hundreds more wounded. Over 4 million people used the service between Nov. 13 and 14.