Anorexia Could Soon Be Treated By Brain Stimulation Therapy, Research Suggests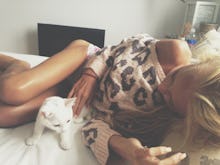 According to new findings published in the journal PLoS One, individuals suffering from the condition of anorexia, an eating disorder characterized by a dangerously low body weight and self-starvation, may have reasons to rejoice. A non-invasive brain stimulation therapy may be the key to reducing core symptoms of anorexia. 
This study is the first randomized control trial that sought to find out if repetitive transcranial stimulation (rTMS), could help alleviate symptoms of anorexia, according to the King's College London statement.
Read more: Scientists Just Created Synthetic Life With the World's Smallest Genome
The researchers focused on specific parts of the brains that are known to be the cause of self-regulation issues, much like the difficulties found in individuals suffering from anorexia. Magnetic pulses are then sent to those specific areas, which feels like a soft tapping sensation on the side of the head, the King's College London statement reports. 
One session of the treatment yielded positive results.
"We found that one session of rTMS reduced the urge to restrict food intake, levels of feeling full and levels of feeling fat, as well as encouraging more prudent decision-making," Dr. Jessica McClelland, Post-doctoral Researcher at the Institute of Psychiatry, Psychology & Neuroscience (IoPPN), King's College London and first author of the study, said in a statement. "Taken together, these findings suggest that brain stimulation may reduce symptoms of anorexia by improving cognitive control over compulsive features of the disorder."
Anorexia is not only one of the most common psychiatric diagnoses that can be found in younger women, but it also has one of the highest death rates of any other mental health condition, according to the National Eating Disorders Association.