California Legislators Reach Historic Agreement on $15 Minimum Wage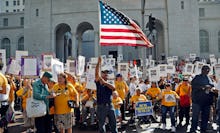 Low-wage workers in California will soon get a massive raise.
On Saturday afternoon, members of the California state legislature and representatives from labor unions shook hands on a "tentative deal to raise the statewide minimum wage to $10.50 an hour next year and then gradually to $15," the L.A. Times reports.
If the deal is eventually passed into law, with just a few exceptions the entire state of California — the nation's most populous, with nearly 39 million residents — will begin making $15 by 2022. The pay raise will phase in over multiple years, with the current state wage of $10.00 increasing to $10.50 on Jan. 1, 2017 and increasing by a dollar per year after then, according to the Times. Small businesses with under 25 employees will get an additional year.
At $10.00 an hour, California is already tied for the highest state minimum wage in the country with Massachusetts. California Gov. Jerry Brown "had resisted multiple efforts to revisit the issue at the legislative level until labor unions made it clear they were prepared to take the issue directly to voters," the Times reports, but signed on to the new deal after two union-sponsored bills qualified for the November 2016 general elections.
Seattle, Washington became the largest city in the country to begin the process of increasing its minimum wage to $15 when a hotly disputed ordinance went into effect in 2015, though the economic effects of the bill are not yet clear. Fast-food workers in New York won a similar victory in 2015, convincing state labor officials to sign off on a sector-specific $15 an hour minimum for fast food workers and Gov. Andrew Cuomo to endorse the same amount statewide.
In 2014, 600 economists signed a letter endorsing a federal minimum wage increase to $10.10 an hour, the wage endorsed by President Obama. The higher $15 amount is a more ambitious goal set by labor organizers who used a series of high profile strikes and protests to draw national headlines.