Bernie Sanders Supporters Called Out Media Whitewashing With #BernieMadeMeWhite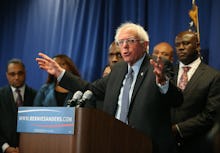 It was a good weekend for Democratic presidential candidate Bernie Sanders and his supporters. The Vermont senator saw sweeping victories over rival Hillary Clinton in Hawaii, Alaska and Washington state.
Many in the media attributed Sanders' success in those states to low populations of black voters, a population that's proven a weakness for Sanders throughout the primaries.
Read more: Here are the 10 Trumpisms That Donald Trump Fans Love Most
"Hawaii is 3% black. Alaska is 4% black; Washington, about the same," wrote the Washington Post's Philip Bump. "When the composition of the black Democratic electorate has been below 7% for states where Democratic primary exit polling in 2008 or 2016 was available, Clinton has lost by an average of 30 points this year."
It was an assessment that didn't sit well with many Sanders supporters, like Jabari Brisport of New York City, who took umbrage at the apparent whitewashing — especially in states like Hawaii, Alaska and Washington which have broad and diverse electorates.
"I think the media is purposely trying to portray Bernie as a white person's candidate in order to stop his growing support in the black community," Brisport, a black actor and SAT prep tutor, said. "I helped register over 200 college students to vote in Brooklyn last week. Mostly black and Latino. Overwhelming in support of Sanders. C'mon."
The frustrated rallied together under the hashtag #BernieMadeMeWhite, wondering what about their vote suddenly turned them white.
Get the five stories that will challenge you to rethink the world by signing up for MicCheck Daily.