Bieber Is Applauded for Flaunting "Dat Ass" — But What About Kim Kardashian West?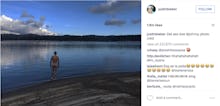 On Sunday, Justin Bieber decided to show the world what an ass he is... excuse me, what an ass he has. 
Bieber posted a nude photo of himself on Instagram, captioned, "Dat ass doe." The pic amassed almost 2 million likes over the course of one day. 
Read more: Is Pink's Twitter Post a Jab at Kim Kardashian West's Naked Selfie?
The reaction to Bieber is in stark contrast to the controversy and aspersions stirred up by another stripped down social media moment from earlier this month. Kim Kardashian West's nude selfie unleashed a storm of slut-shaming.
Let's take a little look at the way the world responded to both. 
Perez Hilton condescendingly described Kardashian West's photo as "self-exploitation."
While, on the other hand, he had nothing but nice things to say to the Biebs for his nude pic: "Nice butt, #JustinBieber!"
Other celebrities had some rather disapproving things to say — some good, some bad — of Kardashian West's snapshot, too. 
But plenty of people had encouraging things to say about Bieber's moment in the buff:
Sexist double standards can be found both on the part of the users and the companies themselves. Instagram has come under fire for its sexist user guidelines, allowing men and not women to post images with exposed nipples. 
#FreeAllTheBits.