'Game of Thrones' New Apple TV Ad Has Star Jaime Lannister Trying to Seduce Alison Brie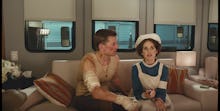 Viewers have seen Game of Thrones' Nikolaj Coster-Waldau in romantic settings before — when in character as Jamie Lannister, with his on-screen sister Cersei. However, take the actor out of Westeros and he can't seem to spark the same chemistry. At least, that's what we see when he's paired with actress Alison Brie in an Apple TV commercial released on Thursday. 
In the spot, the two actors are on the set of a fictional movie — likely a wartime period piece, given their appearance — about to prepare for their big on-screen kiss. However, Brie isn't feeling it at first, and hopes Apple TV can help her by going through some of Coster-Waldau's romantic scenes in movies past. After looking through a kissing scene from his 2013 film 1,000 Times Good Night, she suggests going to Game of Thrones. 
Coster-Waldau is understandably hesitant, given his incestuous habits on the show, instead asking Siri to open up Apple Music and play some Jeremih. With some awkward crooning from the actor, Brie cuts him off and suggests they're "overthinking it" before walking out. It's a cheeky look at some of Apple TV's impressive features, as the brand continues an aggressive push to convince consumers the device should be a household staple — hopefully with better results than the two would-be on-screen lovers. 
Check out the commercial below. 
Read more: 'Game of Thrones' Season 6 is Coming Soon — Here's What We Know So Far