Bernie Sanders Had a Great Weekend — But the Map Gets Tougher From Here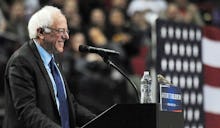 Bernie Sanders routed Hillary Clinton in Saturday's Democratic nominating contests, winning the caucuses in Alaska, Washington and Hawaii by margins ranging from 39 to 64 points and making a small dent in Clinton's sizable delegate lead.
To capture the party's presidential nomination, Sanders will need a lot more days like Saturday — but a look at the terrain ahead suggests he's decidedly unlikely to get them.
Read more: Bernie Sanders Says Victory Means More Than Beating Hillary Clinton
The road from here: The types of contests slated to be held in the coming weeks could make it tough for Sanders to do well.
After this weekend, only three caucuses — in Wyoming, Guam and the Virgin Islands — remain. That's bad news for Sanders, who's defeated Clinton in 10 of 13 caucuses to date, benefiting from the progressive activist demographic such contests tend to attract.
Moreover, of the 22 remaining contests, 13 are closed, meaning that they allow participation only by Democratic voters. Clinton far outperforms Sanders among registered Democrats, having won about two-thirds of their votes ahead of this weekend's contests, while she had only won roughly 37% of independent voters.
Not only do most remaining contests bar independent voters, but the preponderance of the most delegate-rich states that have yet to vote will conduct closed primaries. They include New York, which awards 247 pledged delegates and votes on April 19; Maryland, which follows a week later and apportions 95 pledged delegates; Pennsylvania, where voters head to the polls the same day and will determine the allocation of 189 delegates; and New Jersey, where 126 pledged delegates are up for grabs on June 7.
Notably, California — whose 475 pledged delegate make it by far the richest prize of all — does allow independents to vote in its Democratic primary. But while recent polling shows Clinton below 50% support in the state, Sanders needs to do far more than make the Golden State primary a single-digit race. He needs to beat the former secretary of state handily — and Sanders has yet to post a landslide victory in a state larger than Washington.
It's a similar story elsewhere: Polls show a dead heat between Clinton and Sanders ahead of Wisconsin's April 5 primary — in which independents will be able to vote — while they give Clinton double-digit leads in her adoptive home state of New York, Pennsylvania and New Jersey.
To reach the 2,383 delegates required to clinch the nomination, Clinton only needs just under 40% of the remaining pledged delegates — and that's assuming she doesn't pick up any more superdelegate support.
So while losing, say, New York, would mark a pretty big embarrassment for Clinton's campaign, she can technically afford to lose there, so long as Sanders doesn't rout her. But aside from California, Clinton has yet to see her lead slip into the single digits in any of the largest remaining states.
It's easy to lose sight of the fundamentals of the race amid headlines heralding Sanders' landslide victories this weekend. But while Clinton may wish that she'd put the Sanders challenge to bed earlier, she remains well on her way to becoming the Democratic standard-bearer.