The Solution to Getting Rid of Unwanted Tattoos? Get More Tattoos.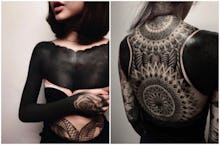 Although most people don't regret getting a tattoo, there are the outliers: those who perhaps got a Tweety Bird tattooed on their ankle, an unsightly phoenix on their back or the word "bubba" on their bum. 
Of course, there's laser removal, which is synonymous with torture. But now, there's a way to get rid of that unsightly reminder of your poor decision skills, while still looking relatively badass. (And in case you're wondering: Yes, it still hurts like a bitch.)
Related: Here's Why You Won't Regret Getting That Tattoo You've Been Wanting
Introducing Blackout tattoos, the tattoo industry's latest, intense trend. It's so intense, in fact, that it can cover up most tattoos by injecting a whole lot of black ink all over the skin. Consider Tweety Bird dead and gone. 
For years, the blackout method (which is basically just filling in your skin completely) has been used in parts of tribal tattoos. But now, covering huge parts of the skin with a thick patch of black ink seems to be on the rise. 
Blame it on the internet's constant need to bully us into embracing trends, or our new, accepting attitude toward tattoos in general. The hashtag #BlackoutTattoo has already been tagged in more than 1,000 pictures on Instagram, with people proudly showing off newly inked blocks on their skin. 
For some, blackout tattoos offer the ability to cover up something they really don't want anymore. Instagram user @i_am_mora, for instance, is currently blacking out a massive henna-inspired tattoo on his arm. 
For others, like Instagram user @joleenlzh, it's just as simple as liking the way they look. Recently, she got a blackout tattoo across her entire chest and right arm and as any good young person would today, she posted a picture of her new work on Instagram. "The reason why I did it because I just love the idea of having some parts of my body blacked out," she wrote. 
Seems simple enough. 
The tattoo artist behind her work is Chester Lee, who runs Oracle Tattoo in Singapore. Since he posted an image of her tattoo, he's been cited as one of the leaders of this new tattoo movement, with more than 12,000 followers on Instagram so far. 
"For sure, [blackout tattoos are] popular in its scene by itself," Lee said in an email on Monday. "Personally I feel this is the purest form of art, lines and shapes. Less is more." 
But of course, the trend has its critics, who say this sort of tattoo is just too much. When the tattoo account @blackworkers reposted @joleenlzh's image, comments like "this is soooo much" and "Wtf that would hurt so bad" were a regular occurrence. 
According to Lee, that's certainly true. "Pain-wise ... I am sure it hurts a lot," he said. "It takes numerous hours to finish a proper black piece, [needing] to be evened out black with no visible blank spots." 
But for someone who still wants a tattoo (but just not their current tattoo), this is an option. It's also yet another example of just how cool millennials are with seeing massive, hugely visible works of art on their skin. "People start to appreciate the fact that black is nicer and everlasting to look at," Lee said. "As I say, [it's an] acquired taste." 
Correction: March 28, 2016