Petition to Rename NYC Street for A Tribe Called Quest's Phife Dawg Is Nearing Its Goal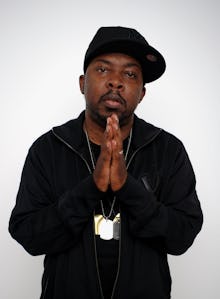 Back in the days on the boulevard of Linden, A Tribe Called Quest used to kick routines and the presence was fitting. It was Q-Tip, the abstract, and Phife Dawg, the 5-footer, who died Tuesday from complications resulting from diabetes. Now, fans want to rename that legendary boulevard that appeared in so many A Tribe Called Quest lyrics in his honor.
A petition submitted Saturday to Change.org addressed to Queens, New York City Council Member I. Daneek Miller to change the section of Linden Boulevard between 192nd and 193rd Streets to A Tribe Called Quest Boulevard. 
Read more: Remembering Phife Dawg's Life and Rise to Hip-Hop Royalty in His Own Words
It's been collecting signatures at breakneck speed and as of press time is around 1,700 short of the impressive 5,000-signature goal.
The petition's comments section is filled with memorable tributes to Phife Dawg and A Tribe Called Quest. "Because I live in this community, it's only right that we acknowledge positive role models from our community," D Peters wrote. "This can be a big inspiration to the youth of today."
"People need to be aware that [places] like the Bronx are not the 'piano district,'" wrote Rosa Javier Broadnax, referring to the New York City neighborhood invented by white developers in 2015. "It's the boogie down, and these places have been given cultural importance by how they are represented in songs by people who survived and endured there. Because representation matters."
The call mirrors one from within A Tribe Called Quest. On Saturday, member Jarobi White posted a list of ways he wants to see Phife Dawg remembered on Facebook. 
"Things I want for Phife," he titled it. "Sayres Ave from 180st to Merrick Blvd renamed Malik 'Phife Dawg' Taylor Ave. St. Albans Park renamed Malik 'Phife Dawg' Taylor Park (aka Tha Phiferdome). And most importantly: his likeness on the mural in St Albans. Help me accomplish these things in his name."
The park renaming doesn't seem outside the realm of possibility. After Beastie Boys MC Adam Yauch, better known as MCA, died from cancer in 2012, the Palmetto Playground in Brooklyn was renamed in his honor.
Phife Dawg is as vital a contributor to hip-hop's legacy, as the huge outpouring of tributes and salutes can attest to. Now, it's NYC's move.