Emilia Clarke Addresses Critics Who Say 'Game of Thrones' Is Sexist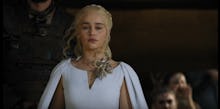 The fictional world of Westeros created in HBO's Game of Thrones — and the novels by George R.R. Martin which the show is based off of — is unquestionably cruel. Several instances in all five seasons of the series demonstrate the show's consistency in its unforgiving tone and willingness to kill off any major character at any time. However, Game of Thrones has also received its fair share of criticism for being sexist, most notably due to the events of last season, which included a controversial rape scene involving Sansa Stark (played by Sophie Turner). 
In the show's defense, actress Emilia Clarke — who plays Daenerys Targaryen, one of the many characters vying for the Iron Throne — has said it's actually the opposite. In an interview with Entertainment Weekly, Clarke insisted the show is being taken out of context when it's viewed with an anti-feminist take. 
"There's so much controversy," Clarke said. "Yet that's what's beautiful about Game of Thrones — its depiction of women in so many different stages of development. There are women depicted as sexual tools, women who have zero rights, women who are queens but only to a man, and then there are women who are literally unstoppable and as powerful as you can possibly imagine. So it pains me to hear people taking Thrones out of context with anti-feminist spin — because you can't do that about this show. It shows the range that happens to women, and ultimately shows women are not only equal, but have a lot of strength."
For Daenerys specifically, she'll have to endure her most challenging stretch since the first two seasons — as her season five storyline culminates with the character surrounded by a Dothraki horde.
Game of Thrones will return for a sixth season on HBO April 24. 
Read more: 'Game of Thrones' Season 6 is Coming Soon — Here's What We Know So Far
Get the five stories that will challenge you to rethink the world by signing up for MicCheck Daily.