Airspace by Airbus Is a Plane Cabin That Uses Design Tips Crowdsourced From Real Customers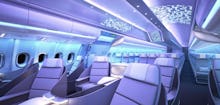 Airplane manufacturer Airbus has released designs for its new cabin called Airspace by Airbus that'll debut in the company's 2017 A330neo plane, according to Mashable. Instead of basing the cabin off what the airlines want, the Airspace by Airbus was designed using crowdsourced suggestions and feedback by real customers over social media and online.
Airbus made the shift because it finally caught on that sites like TripAdvisor and SeatGuru are allowing people to publicly share and rate their airplane experience. 
"Today we're reaching out to the passengers who fly on the aircraft," Kiran Rao, executive vice president of strategy and marketing, said, Mashable reported. "Today they are making big decisions based on product, and the experience that they have. So we listen to our customers and our customers' customers." 
Read more: This Indian App Allows Women to Crowdsource the Safest Route Home
The customers' customers are the customers of the airlines, also known as us. However, the airlines do get the final say in the end. 
The airy open cabin's improvements focuses on two important flying experiences: storage and legroom, according to a press release. The cabin is slated to have 18-inch seats and bigger overhead bins instead of below-seat storage to provide more lovely legroom. There'll also be LED ambient lighting and wider aisles. 
The plane will also have "improved built-in broadband connectivity," so that fliers can use their phones or laptops with greater functionality, Refinery29 reported.
"I mean, if you're a passenger, what else do you care about other than the cabin?" François Caudron, senior vice president of marketing, said, according to Mashable. "This is the place where you can live for eight or 12 hours. This is your prime focus."