Georgia Governor Nathan Deal Says He Will Veto Anti-Gay "Religious Liberty" Bill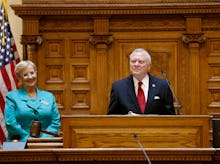 Georgia Gov. Nathan Deal has announced that he will veto the controversial religious liberty bill that would allow discrimination against same-sex couples and other groups. Speaking at a press conference on Monday, Deal said the language of the bill presented to him was of "concern," according to ThinkProgress.
"In light of our history, I find it somewhat ironic, that some in the religious community today feel it necessary for the government to confer upon them certain rights and protections," Deal said.
With the bill making its way toward Deal — and its corresponding controversy — several leaders in the film industry, including Disney and Marvel, announced they would boycott filming in the state of Georgia if the bill passed. Last year, the film industry in Georgia was responsible for a "record $6 billion in economic impact," according to the Hollywood Reporter. 
While Deal said that he does not "respond very well" to threats or insults — with other businesses willing to boycott the state as well — he said he did not want Georgia to be associated with the controversial bill. 
"I do not think we have to discriminate against anyone to protect the faith-based communities of Georgia ... Georgia is a welcoming state," he said. "It is full of loving, kind and generous people. And that's what we should want." 
As one Twitter user put it, perhaps it was pragmatism driving this decision. Georgia stood to lose plenty of money from businesses threatening to boycott the state should the bill have passed. 
Read more: Disney and Marvel Threaten to Boycott Filming in Georgia If Religious Liberty Bill Passes
h/t ThinkProgress