Donald Trump's Tombstone Mysteriously Materializes in the Middle of Central Park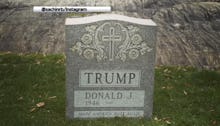 It's hard to imagine a more fitting, more ostentatious resting place for Donald Trump than smack dab in the middle of a historical region of New York City's Central Park. 
The Donald is, of course, alive and well, but that didn't keep one shadowy figure from preempting his demise. On Saturday night, said figure (or, perhaps, several) crept into Central Park and planted an elaborate tombstone for Trump on the park's most expansive lawn, Sheep Meadow.
His 1946 birth year was inscribed on the elaborate — if bereft of gold leaf — tombstone, but there was no year of death. The epitaph, in a play on his ubiquitous campaign slogan, read, "Make America Hate Again."
By Sunday night, the tombstone was gone, and the dream of a pending Trump demise dashed.
But what appears to be nothing more than a political statement by way of a practical joke, might have been considered a death threat, though the Secret Service neither confirmed nor denied this possibility.
"We're not going to comment on protective procedures or protective knowledge like that," Martin Mulholland, a special agent for the Secret Service public affairs office, told ABC News.
The agency also refused to comment on whether the Trump campaign will take a Weekend at Bernie's twist.
Read more: Donald Trump Explains When Exactly America Was Great