6 Tracks That Have Us Very Excited About AlunaGeorge's New Album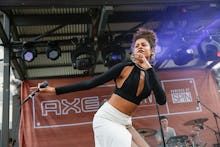 An "unplaceable sound" is how Aluna Francis once described her duo AlunaGeorge to Billboard. Out of anyone else's mouth, the words would coax an eye roll from most readers. However, when it comes to AlunaGeorge, it's hard to argue with.
Best known for their anthem "You Know You Like It" — one of those radio earworms you know all the words to, whether or not you know who sang them — AlunaGeorge's sound is difficult to classify by any regular taxonomy. Their hypnotic electronic production, handled by the duo's other half George Reid, paired with Francis' alluring vocals, teeters between abstract R&B, intelligent dance music and synth pop. There isn't a clear dividing line between their lyrical smarts and dynamic arrangements — it's more complementary.
Despite (or, we'd hate to think, because of) their adventurous sound, they have yet to become the household name they deserve to be in North America. However, that may change with their second album, I Remember, due soon.
Read more: We Asked 7 SXSW Artists to Design Inspirational Posters to Represent Their Music
Speaking to Billboard, Reid described AlunaGeorge's first work Body Music, largely put together in his bedroom, as providing "a good blueprint" to jump from. The following six songs — capturing themes of impulsivity, dizzying love and deception — prove to us we're due for a lot more brilliance from the forward-thinking pair.
"Friends to Lovers"
AlunaGeorge's instrumentals and lyrics work together like a single instrument on "Friends to Lovers" to characterize the theme of a friendship transitioning into a love affair. A synth sound smartly jumps in at the lyric about a blush-inducing stare. The warped, textured vibe gives way to a warm and reassuring lullaby of a chorus that pairs beautifully with its lyrics — "It could be worth finding out." It's a trick AlunaGeorge performs with an effortless sort of subtlety throughout their debut. We hope to see a lot more of it on I Remember.
"Attracting Flies"
The beginning of "Attracting Flies" is a prime example of the nifty sonic touches that give AlunaGeorge their distinct sound. That synth sound is actually not an instrument; it's distorted vocals from Aluna herself. The song essentially turns power-up sound effects from an 8-bit video game into a fierce track about having to hear out a tireless liar.
"Supernatural"
"Supernatural" is grounded in late-70s, early-80s disco (think "Le Freak" by Chic with a more menacing overtone). It's probably the most futuristic and avant-garde a cowbell has ever sounded. An echoing keyboard and nondescript vocal effect essentially add the audio equivalent of strobe lights. They subtly capture the "haunting" feeling the lyrics discuss.
"Your Drums, Your Love"
The repeating echoes throughout "Your Drums, Your Love" manifest the song's themes about a longing that can't be quieted. The well-thought-out chorus ("I've been treading water for your love/ Whether I sink or swim, it's you I'm thinking of") offers an obsessive statement that won't leave you feeling drained by the end. It's one of the best demonstrations of how AlunaGeorge's rich lyrics complement their magnetic arrangements.
"Diver"
Probably the closest thing to atmospheric they've done so far, "Diver" is a standout example of the "melodic and lyrical journeys" the duo aspires to create. Lyrically, the song has depth, boasting one of Body Music's best lines: "I wanna be a climber with liquidity/ The hardest wall hanging over me/ The fear of the fall setting me free." Complimented by crackling ambient sounds, the song's strengths whisper where other synthpop flaunts its bright ideas eagerly. The intriguing energy spells promise for the future.
"Outlines"
Reid has described "Outlines" as one of Body Music's "personal" songs. It comes with sad, descriptive lyrics that offer symbolism far superior to Katy Perry's plastic bags or Hilary Duff's pieces of confetti. A persistent laid-back vibe first masks the song's painful message, culminating with Aluna doing as the lyrics say and fading away with a long cry.