Seve Gat's Poorly Photoshopped Chinese Vacation Earned Her a Trip to China and Our Hearts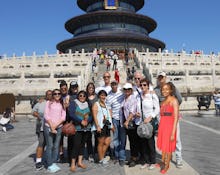 Kenyan woman Sevelyn "Seve" Gat really wanted to go to China for the holidays but couldn't afford the trip. So Gat did the next best thing: She photoshopped herself into a bunch of photos as if she were taking the trip. However poorly they came out, it caught the attention of Nairobi businessman Sam Gichuru, who pestered his friends and raised enough money to fund her trip. 
In a series of photos posted on her Facebook, Gat documented her holiday, from her departing flight, to the monuments she visited, ending with a group shot alongside all the friends she'd made during her trip.
A day after her "return" from China, Gat posted a thank you to Gichuru, followed by a photo of the two together after he'd raised enough money to really send her to China.
The internet also had some fun of its own with the hashtag #WhereIsSeveGatsNow, imagining the other places the wanderlust would visit with photos that were just as poorly photoshopped as the originals, and also equally hilarious.
Read more: #MemeHistory Recaptures Historical Moments With These Hilarious Tweets