Oculus Rift: Price, How to Buy and Pre-Order 2016's First Big Virtual Reality Headset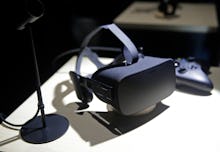 After a long development stage, the consumer version of the Oculus Rift is finally available for purchase. The virtual reality headset has some competition in the space, but it is the first device readily available — and has been utilized in product reviews. Prototypes were even distributed to YouTube celebrities. 
The Oculus Rift retails for $599, though it also has around 30 games available to purchase at launch as well. With a purchase, it'll come with the headset, an Oculus sensor, an Oculus remote, cables, an Xbox One controller and the video game Lucky's Tale. 
Read more: PlayStation VR 2016: Price, How to Buy and Preorder Sony's Virtual Reality Headset
Unfortunately, while the Oculus Rift is technically on the market, anyone who hadn't already pre-ordered the VR headset will have to wait until July to receive it. In the meantime though, it's available to pre-order on the Oculus website and at retailers like Best Buy, the Microsoft Store and Amazon. While many fans will have to wait for their hands-on VR experience, early reviews of the finished product have been positive. 
"What Oculus has accomplished is remarkable," Mario Aguilar wrote for Gizmodo. "There's plenty that even the completely uninitiated user can enjoy. More importantly, the Rift is truly immersive in most cases. The image quality is mostly excellent, and the head-tracking is nearly flawless. Indeed, perhaps what's most significant is that there are moments when I can say, unreservedly and without caveats, that I am enjoying the Rift right in the moment — not as a device indicative of some desirable future, but as a device to own right now."