Jon Lovitz and Jessica Lowndes Just Trolled Us With a Faux Instagram Relationship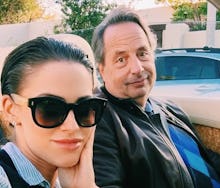 On March 26, a new May-December Hollywood romance temporarily broke the internet. Former Saturday Night Live star Jon Lovitz, 58, oh-so-subtly suggested he was in a relationship with former 90210 actress Jessica Lowndes, 27, with the two dropping rather deliberate hints on social media. 
On Twitter, Lovitz and Lowndes tackled critiques about their 31-year age difference from "haters" head-on. Lowndes was particularly vocal, liberally sprinkling her Instagram with DGAF hashtags and going out of her way to tell her followers she hadn't been hacked. 
She also posted a photo revealing what appeared to be (a whopper of) an engagement ring ostensibly from Lovitz, with whom she appeared in an episode of Hawaii Five-O last year.
Unsurprisingly, the slew of loving photos and tweets sent the couple's followers and the media at large into meltdown mode, with many wondering if the relationship was a hoax. BuzzFeed's Jen Lewis confirmed this side of the narrative, pointing out that an Instagram photo of roses Lovitz purportedly sent Lowndes is actually from a wallpaper website.
Later that afternoon, however, the public's skepticism was confirmed. Lovitz's and Lowndes' relationship was, in fact, a stunt intended to promote her upcoming music video:
Now that the faux relationship is slowly fading from the internet news cycle, it's worth asking not whether or not it was successful (clearly it was), but why people cared so damn much about it. After all, neither Lovitz nor Lowndes has otherwise made headlines for quite some time, and both celebrities could be classified as C-list at best. 
But of course, the reason we cared is pretty obvious: Clearly, people were transfixed by the fact that a) Lovitz is objectively less conventionally attractive than Lowndes, and b) that he's old enough to be her father — a dynamic that we're much more willing to accept in sitcoms and movies than IRL. 
It's certainly not uncommon for older men in Hollywood to date younger women. In fact, it's virtually the norm, to the point that it's controversial when Hollywood leading men are cast opposite women their own age. But there are apparent limits to the sorts of pairs we're willing to accept, of which the collective freakout over Lovitz and Lowndes' relationship was only the latest example. 
Lovitz and Lowndes' May-December coupling wasn't just a bizarre joke, but an easy one: We were bound to freak out about it in the first place, and ultimately, that says more about us and our expectations for relationships than it does about them. 
Mar. 28, 2016: This post has been updated to reflect the confirmation this afternoon that Jon Lovitz and Jessica Lowndes were indeed playing a prank.