Kesha Claps Back at Body Shamers on Instagram, Says She's Not a "Slave to Perfection"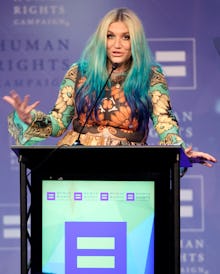 Kesha had a rough start to 2016. But recent images show that the pop star is trying to settle back into normal life — and won't let internet trolls bring her down. In a recent post to Instagram, the artist is shown in a pool at L'Horizon Resort & Spa in Palm Springs, California. Her accompanying post included a powerful message calling out body shamers, or those who perpetuate negative stereotypes toward particular body types. 
The post read: "Not a slave to perfection right now. Fuck it. Body shamers, please fuck off ain't nobody got time for it. @lhorizonpalmsprings in my skivvies."
Read more: This Girl Has a Strong Message for Body-Shaming Victims: "Wear Whatever the Hell You Want"
In February, New York State Supreme Court Justice Shirley Kornreich denied the 29-year-old artist's injunction to break from her contract with alleged abuser, Sony producer Lukasz "Dr. Luke" Gottwald.
The scrutiny has affected both Kesha's career and personal life. "Until this court rules on the declaratory judgment claim, Kesha is at an impasse," read a memorandum that was provided to the court. "She cannot work with music producers, publishers or record labels to release new music. With no new music to perform, Kesha cannot tour. Off the radio and stage and out of the spotlight, Kesha cannot sell merchandise, receive sponsorships or get media attention. Her brand value has fallen, and unless the court issues this injunction, Kesha will suffer irreparable harm, plummeting her career past the point of no return."
The "Tik Tok" singer accepted a Visibility Award for spreading awareness on the bullying of LGBT youth earlier this month.