How to Make a 'Harry Potter'-Inspired Steak and Kidney Pie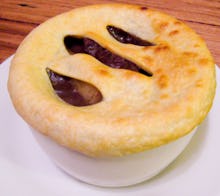 Steak and kidney pie is featured prominently in the world of Harry Potter.
The dish was served for dinner at the Hogwarts School of Witchcraft and Wizardry on Sept. 12, 1991, in Harry Potter and the Philosopher's Stone, as well as in September 1995, during Harry Potter and the Order of the Phoenix, according to the Harry Potter Wiki. The meal was also a specialty at the Leaky Cauldron, a wizard pub and inn featured in Harry Potter's London.
However, muggles outside of the Harry Potter world can enjoy steak and kidney pie, as it is a fairly common British dish; fans can even eat one in tribute to the steak and kidney pie from Kreacher that never was.
Read more: Here's How to Make Your Own 'Harry Potter'-Inspired Butterbeer
First, it should be noted that steak and kidney pie and steak and kidney pudding are similar dishes in terms of their filling, but differ in some ways: As the Guardian's Anissa Helou noted, pie is covered with shortcrust pastry and baked, whereas pudding is encased in pastry made with suet (beef or mutton fat) and steamed.
The following recipe for steak and kidney pie comes from chef and restaurateur Antony Worrall Thompson. The ingredients you'll need for the filling include:
— 2 tablespoons of vegetable oil
First, preheat the oven to 425 degrees Fahrenheit.
Then, in a large frying pan, sauté the beef in the oil until brown — avoid overcrowding the frying pan which may result in steamed beef cubes. Take the beef out of the pan and use the same pan to brown all the kidneys.
Add the onions, and cook for 3 to 4 minutes.
Add the beef back in and sprinkle the mixture with flour. 
Add the stock, carefully stirring everything and bring to a boil. Then lower the heat and simmer for 1 1/2 hours, making sure to keep an eye on the liquid; add more stock if it evaporates too quickly.
Take it off from the heat and then add salt and pepper to taste, as well as the Worcestershire sauce. When the mixture cools completely, pour everything into a pie dish.
For the "pie" part, you can adjust the recipe by cheating and buying premade puff pastry. All you'll need is an oven-safe dish filled with the meat and onion mixture. Cover the top with the puff pastry, make sure it covers the pan completely. Crimp the edges with your fingers and use an egg wash to brush on top of the pastry to help create a golden crust. Bake everything for 30 to 40 minutes until golden brown and puffed.