Google Maps Is Helping North Carolina's Trans Population Find Safe Bathrooms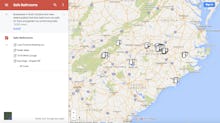 After Governor Pat McCrory passed legislation last week requiring people to use the bathroom coinciding with the sex they were assigned at birth, the North Carolina state legislature turned a mundane activity into a potentially dangerous one for its transgender and gender nonconforming residents.
On Monday, the American Civil Liberties Union, along with two other LGBTQ rights organizations, filed a lawsuit against state officials. But as different groups continue to challenge the law, trans people in North Carolina are going about their everyday lives — and that means they're going to have to use the bathroom. 
"I just want to go to work and live my life," Joaquín Carcaño, a trans employee at the University of North Carolina at Chapel Hill and a plaintiff in the ACLU lawsuit, said in a statement. "This law puts me in the terrible position of either going into the women's room, where I clearly don't belong, or breaking the law."
That's why Emily Waggoner created a Google map of North Carolina, placing toilet paper icons to designate businesses that have publicly declared their bathrooms safe for trans and gender nonconforming people.
So far, she's identified over 60 businesses across the state, from dog salons to ice cream parlors. In order to officially participate, business owners must email Waggoner and present proof of their support, be it in the form of a mission statement, anti-discrimination policy or gender-neutral bathroom sign. 
In the map's description, Wagonner also includes a link to an online store called Deconstructing Gender, where business owners can purchase an "all gender" bathroom sign for their facilities.
Read more: The NBA Just Took a Stand Against North Carolina's Transphobic Legislation