Did Daryl Die on 'The Walking Dead'? The Cliffhanger Has Some Fans Worried — And Pissed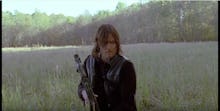 (Editor's note: Spoilers for the comic books and the TV series ahead.)
"You'll be alright," the final, haunting words of Sunday night's episode of The Walking Dead by Dwight (Austin Amelio) left many fans concerned — and for good reason. Following a sneak attack gone awry by Daryl (Norman Reedus) and Rosita (Christian Serratos), Dwight and the rest of his crew ambush the duo, with Dwight capping a bullet into Daryl as he turns around. 
Blood envelops the screen as it fades out, and while Dwight's final comments indicate Daryl could very well be fine, this is the same character that shot Denise (Merritt Wever) with an arrow to the eye in the previous episode, so he's not exactly trustworthy. Reedus admits the fans should be "very worried" about the character — though that's all we're going to get ahead of the season finale next Sunday. 
Read more: Sorry, 'Walking Dead' Fans — Beloved Daryl Dixon Will Probably Die This Season
However, as much as fans are worried about Daryl's fate, they're equally frustrated with the show's propensity for cliffhangers that do nothing to advance the narrative. Just like it was highly unlikely that Glenn (Steven Yuen) was killed off in the early stages of season six — and in the end, he wasn't — it's difficult to imagine Daryl's death will be completed in a similar guise.
That doesn't mean Daryl's out of the woods, though, if he is just injured. Now, he, Rosita, Glenn and Michonne (played by Danai Gurira) are hostages of the Saviors — the group that Rick (played by Andrew Lincoln) and Co. have repeatedly undermined and killed. They're going to want retribution, and we know how it's going to happen: through their leader, Negan (to be played by Jeffrey Dean Morgan). 
The finale is geared up for Negan's introduction, and all signs point to a similar opening scene as the one from the comics, which should result in a disturbing, brutal death for someone at the hands of his barbed wire-laced baseball bat, Lucille. In the comics, that fate is left to Glenn, but the show has been known to switch up iconic deaths from the comics to keep things interesting (Denise, most recently, had a death that mirrored Abraham's from the comics). 
As many fans and critics alike have stipulated, Daryl could be the replacement for Glenn on Negan's chopping (or more appropriately, batting) block, but even if he isn't, he's at the center of the conversation. "If Negan showed up and killed, say, Daryl ... that would make a statement and be one of the most memorable moments in TV history," Paul Tassi wrote for Forbes. 
The finale should answer these lingering questions within its 90-minute run time, though as Reedus and other cast members have noted, it's not going to be a pretty sight no matter who Negan kills. "It's super shocking and it's pretty hardcore," Reedus said, in an interview with the Hollywood Reporter. "Andy [Lincoln] said he was late for work because he read it all night; Josh [McDermitt] said he threw the script; Lauren [Cohan] threw up. It's gnarly. I was instantly curious. I had ideas about what would happen and it made you feel sick and it was painful."
Check out the preview — and the first glimpse of Negan — in the season finale teaser below.