Kris Jenner Leaked Kim Kardashian West's Sex Tape "Deliberately," New Book Alleges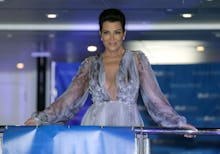 If true, this is arguably the most uncomfortable mom move on record: Kris Jenner allegedly orchestrated the deal that brought the sex tape Kim Kardashian West made with then-boyfriend Ray J in 2003 into the public eye, Page Six reported. The theory comes from a new book, Kardashian Dynasty, in which author Ian Halperin alleges that the tape was the cornerstone of the Kardashian family's grab for fame. 
Read more: Kim Kardashian West Doesn't Want You to Slut Shame Her for Her Sex Tape Anymore
"A mutual friend of Kim and Paris [Hilton] had advised her that if she wanted to achieve fame, a sex tape would be the way to go ... Kim had discussed the idea of producing a tape with her family beforehand," a source in the "adult film industry" reportedly told Halperin.
After Kardashian West strategized with her family, it may have been Jenner who executed the plan.
"It was Kris who engineered the deal behind the scenes and was responsible for the tape seeing the light of day," an ex-squad member of Kardashian West's allegedly told the author. 
According to Page Six, Halperin went undercover as a sex tape salesman to get the lowdown on getting a celebrity video to market. Speaking to a representative for Vivid Entertainment, the company with which Kardashian West and Ray J contracted, Halperin discerned that a celeb tape doesn't usually make money for its stars, unless a deal is struck, which is what happened here: A "third party brought [Kardashian West's tape] to Vivid," a lucrative agreement was made and the Kardashian family catapulted to fame. 
In a 2011 interview with Barbara Walters, Jenner addressed the implications of the now-infamous sex tape for her daughter. After Kardashian West acknowledged that she'd made a few missteps, her mother said of the tape:
"You learned a lot from that; it was devastating for the whole family. You cry yourself to sleep for a few nights, and then you hire a really good attorney and try to make something better happen." 
Which is famously what Jenner tried to do — to turn the lemon that was her daughter's sex tape into lemonade. On Keeping Up With the Kardashians, she spoke about the conflict between her maternal anxieties and managerial instinct, explaining that she was upset with her daughter over the tape, but saw the valuable career potential it packed.
According to Page Six, a Kardashian West spokesperson denied Halperin's allegations.