How This Brazilian Model Triumphed Over Expectations After Losing Her Leg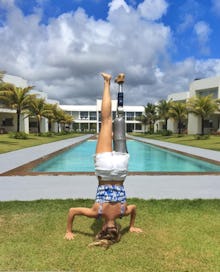 Life always changes after a car accident, and nobody knows it better than 21-year-old Paola Antonini. 
In 2014, the Brazilian model lost her leg after being struck by a drunk driver. But rather than shrink into the shadows, Antonini cranked up her efforts, and has since risen through the Instagram ranks with cheerful shots showing off bold bikinis — and a sleek prosthetic leg. 
"Between being unhappy forever and thankful for being alive, I chose the second option," she told the Brazilian website VejaBH.
Antonini posts regularly to her 615,000 followers, her posts regularly generating tens of thousands of likes.
Antonini's story comes soon after Lauren Wasser — who lost her leg from Toxic Shock Syndrome, a potentially deadly condition linked to tampon use — grabbed headlines for landing a gig with Nike and making her New York Fashion Week debut.
"It took me a while to figure out if I was still worthy, if I was still pretty," Wasser, who is suing the tampon company, told Vice.
A setback? No question. A career killer? Hardly.
Read more: Model Who Lost Her Leg to Toxic Shock Syndrome, Makes Fashion Week Debut