The BBC Is Handing Out a Million Micro Bit Computers to British Schoolchildren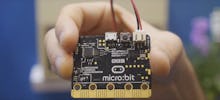 British children may soon be angling for your tech job.
This year, the BBC is arming up to a million Year 7 and 8 schoolchildren (ages 11-12) across the United Kingdom with Micro Bit processors as part of an initiative to encourage basic programming skills among its youth.
The device is a small computer chip users can program to control a variety of functions. It's designed for integration with simple electronics and attachments, enabling users to design custom devices "from robots to musical instruments" says the initiative's website.
Read more: This New Simulation Reveals What It's Like to Have Dyslexia
Or they could think bigger: In the past, students have used the computers to build devices that help people with autism convey emotions, control race cars and operate massive LED display boards.
"The BBC micro:bit has seemingly limitless potential, especially when paired with other hardware, and we can't wait to see what students will do with it," the corporation's learning head Sinead Rocks said in a statement.
At least one British tabloid, the Daily Mirror, saw an opportunity for fearmongering, raising the possibility that such a project would create a "generation of teenage hackers."
Schoolchildren in the United States are comparatively lagging in technology education. As of 2013, more than half of public schools in the U.S. still lacked adequate access to Wi-Fi. That same year, President Barack Obama announced the ConnectED initiative which aims to connect 99% of students to high-speed broadband by 2018.
But if the below video is any indication, by 2018, American schoolchildren will have a lot of catching up to do.