Can You Spot Why Gamers Are Obsessed With This NSFW Riddle?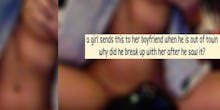 With just one question accompanied by a risqué photo, some random memester has created the riddle of the Sphinx for the 21st century. 
The stumper is this: 
A woman sexts her man with a fire selfie, covering herself with a video game controller. Yet her boyfriend, who's out of town, sees it and immediately ends the relationship. Why?
Don't get it yet? It's because you're looking at the wrong spot.
Take a closer look. (No, we promise we're not being crass.)
Still nothing? Here's the answer: 
The Xbox controller's guide lights — the green light in the center — indicates that she's playing as player two. In order for that to be the case, someone else has to be in the room with her, playing Xbox as player one.
TL;DR: She's cheating, and the green light gives it away.
So, uh, where did that photo come from?
We can't say who originally snapped the pic, but the earliest mention came in 2014 from Twitter account @Sexoymarihuana. That's Spanish for "sex and marijuana." 
Look closely at this photo, though. There's one big difference between the meme and the original.
Notice the key difference? She was player one all along!
It looks like someone digitally altered the photo to create the meme and make her look like a cheater. It's unclear when the photo was edited, but the meme version was most recently posted on Facebook by Fresh 215.
It takes a little gaming know-how to sort this one out — consider it a shibboleth test for the true geeks among us.
Get the five stories that will challenge you to rethink the world by signing up for MicCheck Daily.