Capitol Shooting: Latest News After Gunshots Reported in Washington, DC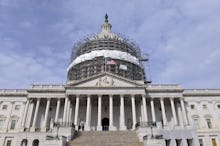 A shooting at the U.S. Capitol Visitor Center put the facility on lockdown, multiple sources reported Monday. The White House was also briefly locked down as a precautionary measure, CNN reported. A shelter-in-place order at the Capitol has been lifted.
The suspect was identified as Larry Dawson from Tennessee. Video from a bystander revealed a chaotic scene.
The suspect and a female bystander were injured during the incident. No officers were hurt, Capitol Police Chief Matthew Verderosa said in a press conference.
"The suspect is currently undergoing surgery. His condition is unknown at this time," said Verderosa, who also seemingly ruled out terrorism as a motive. "We believe this is an act of a single person who has frequented the Capitol grounds before, and there is no reason to believe this is anything more than a criminal act."
Earlier, police reportedly closed the entire Capitol complex and urged anyone outside to seek cover. 
This is a developing story.
March 28, 2016, 5:10 p.m. Eastern: This story has been updated.