Lil' Kim's New Mixtape 'Lil' Kim Season' Has Her Fans Freaking Out on Twitter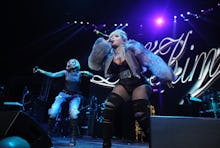 Earlier this month, Lil' Kim announced on Twitter that she was planning to release her new mixtape, Lil' Kim Season. "My best work is yet to come," Lil' Kim wrote in a tweet that also included an image containing a hype quote: "When somebody thinks they're about to checkmate you with a surprise but you knew a long time ago, you just didn't give a fuck because you were already 100 moves ahead of them."
Since the initial announcement, Lil' Kim has intermittently tweeted the mixtape's album cover but with different hair colors – a likely throwback nod to her "Crush On You" music video. In response, fans have been freaking out over the new mixtape's release, taking to Twitter to voice their enthusiasm.
Read more: The Notorious B.I.G. Died 19 Years Ago, but This DJ Keeps His Music Alive
Lil' Kim Season will be Lil' Kim's fourth mixtape since her last studio LP, 2005's The Naked Truth – after 2008's Ms. G.O.A.T.; 2011's Black Friday; and 2014's Hardcore 2K14. Lil' Kim also recently collaborated with Kevin Gates on "#Mine."