Donald Trump's Adviser Thinks Immigrants Will Bring Female Genital Mutilation to the US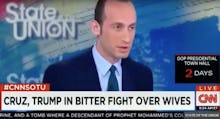 If there's one thing we know Republican frontrunner Donald Trump is not a fan of, it's immigration. According to one of his senior advisers, that's because immigrants are in the United States to harm young women. 
During a CNN segment on the perceived sexism of Trump's campaign, the presidential candidate's adviser Stephen Miller hijacked the conversation on sexism to talk about immigration. Host Jake Tapper began the conversation by talking about Trump's decision to tweet out a meme denigrating the appearance of Heidi Cruz, the wife of GOP candidate Ted Cruz.
The entire panel to groaned when Miller asserted that immigration will put young American women in danger of female genital mutilation.
"You want to talk about women's issues?" Miller said. "Here's something we should be talking about. It is a fact: As a result of uncontrolled migration into this country — you can look this up, it's a statistic from Equality Now — half a million U.S. girls in this country are at risk of female genital mutilation."
Miller's fellow panelists accused him of taking a play out of his candidate's playbook.
"This is exactly what happens with Donald," said Neera Tanden, president and CEO of the Center for American Progress. "He says something outrageous." The panelist then struggles to speak over Miller, who gets on the defensive quickly. 
Miller's stat reflects a real number, but he has the context and meaning of the statistic totally wrong. According to an article published in 2012 in Public Health Reports, scientists from the U.S. Centers for Disease Control and Prevention found that 513,000 women were at risk for female genital mutilation. However, the report was an estimate based on how many girls in the U.S. came from families or groups in other countries that practiced FGM. Therefore, the estimate just means that a young girl — or her parents — comes from a culture where the practice is more common. In essence, it's risk by mere association. 
But there's plenty of evidence that shows that female genital mutilation is on the decline worldwide and in the U.S. According to a 2014 report from the Population Reference Bureau, data suggests lower rates of the practice among younger generations, and according to the aforementioned Public Health Reports study, a review of studies of immigrant families in Europe showed that second-generation children in those families — so, those born in a new country after their parents immigrate — "run relatively little risk" of undergoing the procedure.
Miller's comments reflect a Trump campaign that has spouted several anti-immigrant statements. Whether he's talking about banning Muslims from the United States or building a wall between the United States and Mexico, there are very few groups the Donald isn't willing to denounce. But, to frame anti-immigrant sentiment as a pro-woman stance? For a campaign whose candidate spends a lot of his time spewing general misogyny, that's a new one.